Medium
Are You Looking for A Franchisee Opportunity in North Dakota?
The North Dakota Securities Department partners with the North Dakota State Library to provide an online, searchable database of North Dakota's franchise circulars. The Online Dakota Information Network (ODIN)  connects potential franchisees with franchise opportunities in North Dakota.  
You can use ODIN to search for any category dealing with the franchise of interest, such as:
Fast Food Restaurants
Hotels
Cleaning Personnel
Service Stations
Pet Services
Tanning Salons
Or to search for a specific brand name of a franchise, such as:
Auntie Anne's
Burger King
Country Inn and Suites
Or try a more general category keyword search, such as "Franchises Retail Trade" for broader results and click on any record of interest.
Using ODIN is easy. This link to will take you to the basic search page of the expansive directory of current franchise businesses available in North Dakota:
Below is a sample screen shot of an ODIN search result.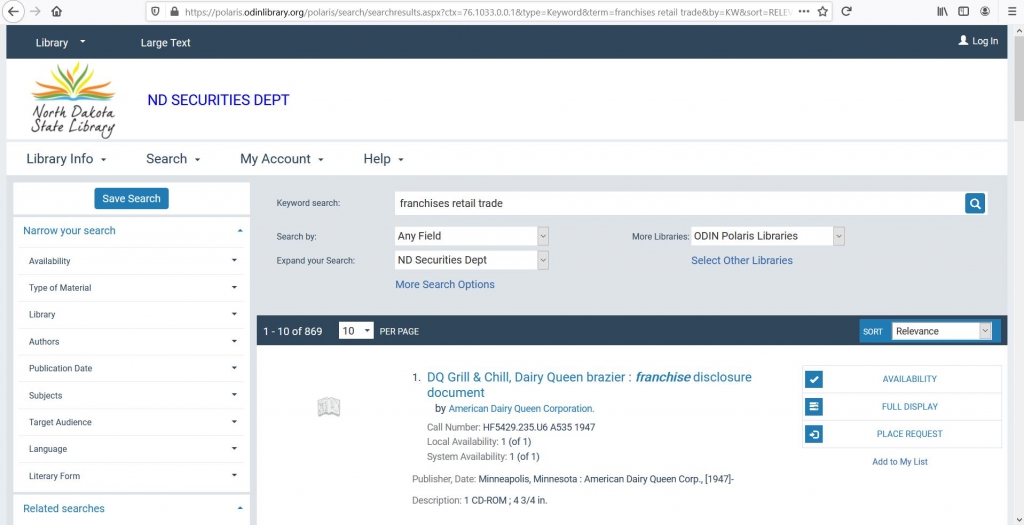 Medium
---
For Assistance Contact:
Diane Lillis, Franchise Examiner / Budget Administrator, Email Diane
Phone: (701) 328-4712; ND Toll Free: (800) 297-5124